In 55 Words FD MC Challenge 2017 – Day 256
I found myself googling random stuff in search of inspiration, today.
Although I can't really say tattoos are a thing of mine, after stumbling upon the picture below, I knew exactly what I had to write. Enjoy.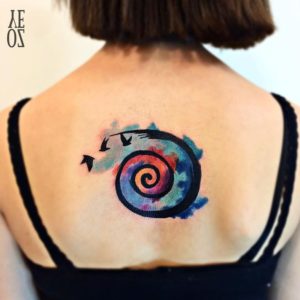 ---
A Whisper of Ink
The snake slithered across her left arm, forked tongue licking the fabric of the universe.
On her right leg, a Chinese symbol spoke of peace and tranquility.
However, what really ensnared him was the spiral on her back, contracting and expanding with each breath.
Gently, he closed his eyes as she branded him for life.